The first time Heidi Radkiewicz's convoy was attacked, she mistook the sound of gunfire for a flat tire – a common occurrence in the heat of Iraq.
But next to her, the truck driver was banging on the steering wheel. She quickly understood what was going on.
She and the rest of her convoy of Army National Guards were under fire from the insurgents.
Heidi rushed over to grab her gun, only to find it stuck – full of sand.
"It was as if time had stood still," she said. "You just have to say a prayer and hope. "
The convoy then stopped to assess the damage. Soldiers aboard the truck in front of Heidi sustained gunshot wounds. Behind her, a grenade hit a trailer pulled by another truck.
Heidi's thoughts turned to Jake, her husband, who was in the back of the convoy. Was he safe?
She felt it before she saw it. Relief washed over her.
"He just put his arms around me," she said.
Jake and Heidi met the day after September 11, during a weekend of exercises in Laramie, Wyo. He proposed less than a year later.
Just weeks after their marriage at the courthouse, the couple learned they would be deployed overseas.
Together.
They served in the same platoon.
Instead of a traditional honeymoon, Heidi and Jake went to war. They went on a road mission together, took a shower together, and slept on the same cot under the desert sky. They even fought the insurgents together.
Over the years, many people have told Heidi that they couldn't imagine serving alongside their spouse. But she can't imagine it any other way.
"That was it," she said. "We could be there together and share the moment and hold each other."
Many veterans struggle with a sense of isolation after returning from the war, Heidi said, because their families simply cannot understand their experiences.
"You will never know what your loved one is going through," she said. "Jake and I had this. We knew exactly how the other was feeling. We could lean on each other.
The couple finally took a real honeymoon, spending two weeks off together in Frankfurt, Germany. They had no idea that their relationship would soon be tested in a new way.
In a hotel bathroom, Heidi took a pregnancy test.
But when she went to compare the result to the instructions, she found that they were all written in German.
The couple brought the items to the front desk and timidly asked an employee to help translate them.
The employee took a look at the test and congratulated them.
"It was hard to be excited, because I knew what it meant," Heidi said.
Heidi would return to the United States and Jake would stay in Iraq.
"I had never felt such sadness," she said. "It was heartbreaking. "
At home with her parents in Iowa, Heidi struggled with post-traumatic stress disorder.
She didn't have much to do other than think about what her husband was facing on the other side of the world and wonder if their child would know his father.
"I was a train wreck," she said. "I was having panic attacks. My anxiety was through the roof.
Jake was able to catch the plane for the birth of the couple's son, Wyatt, although he had to leave almost as soon as he arrived.
"It was the most amazing experience getting him off the plane," Heidi recalls.
Jake returned home for good after his 18-month deployment.
He and Heidi now have two children: Wyatt, 17, and Summer, 15.
Heidi then wrote and published a memoir about their love affair, titled "Honeymoon in Baghdad". Film rights were optional, she said.
When Jake's job became completely remote due to the COVID-19 pandemic, he and Heidi decided to do something they had long dreamed of: move their family of four from the Chicago area to the north of the city. 'Idaho.
They settled in Athol a little over a year ago.
"This is where we want to be," Heidi said.
In Iraq, she and Jake were fighting buddies. They turned to each other for support and leaned on each other's strength.
They face life's challenges in the same way, as a unit. Together they could take over the world.
"It made us really strong," she said. "We are best friends."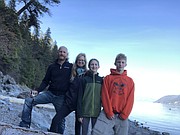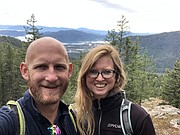 Source link