I have been to Dubai more times than I can count and have stayed in countless hotels in the city. However, so far there hasn't been a single hotel that I've found absolutely amazing and felt the need to return to (I have a thing for the Park Hyatt, but I'm not not sure if this is entirely rational).
Well, that finally changed. I would like to say a huge thank you to the Waldorf Astoria Dubai International Financial Center (DIFC) which is an amazing hotel that I can't recommend highly enough.
This was my first time staying at the DIFC, and I sort of dug it (and I think the branding doesn't quite do justice to what it has to offer vacationers). Although I will have a full review soon, I just wanted to note a few things I like about this hotel.
The best service I had in Dubai
I find service in Dubai to be generally well-meaning but not that polite or well organized. The Waldorf Astoria DIFC staff are truly on a different level than I have experienced anywhere else. Every employee I interacted with was professional, genuinely eager to please, and had a personality. From the restaurant to the housekeeping staff to the front desk staff, this hotel has many superstars.
I can't count the number of times employees asked me for feedback or if there was anything that could be done to improve our stay, but not in an authoritative manner (and to be clear, I don't understand the sense that I get special treatment here – they really care about the guests). In fairness the hotel does not seem to be busy at all.
Good recognition Hilton Honors Diamond
I was originally going to stay at the Waldorf Astoria Palm Jumeirah, but several readers recommended trying the Waldorf Astoria DIFC, noting that the Hilton Honors Diamond treatment was excellent. Well, I can confirm that – the hotel has outstanding Diamond recognition and we received a proactive upgrade to a large suite.
From reports I've seen online, this appears to be the standard upgrade for Diamond members. And it's not just any suite, but it's a legit huge two-bedroom suite with two bathrooms.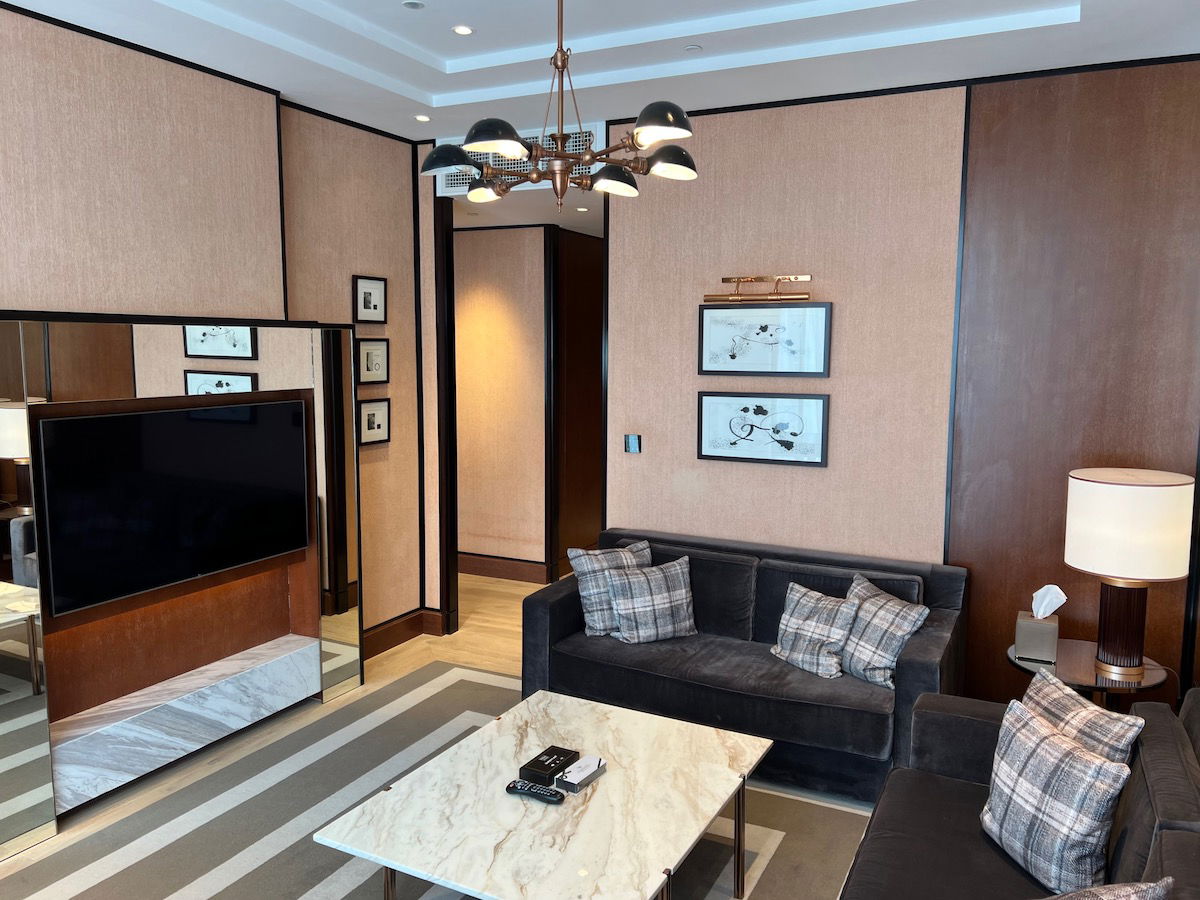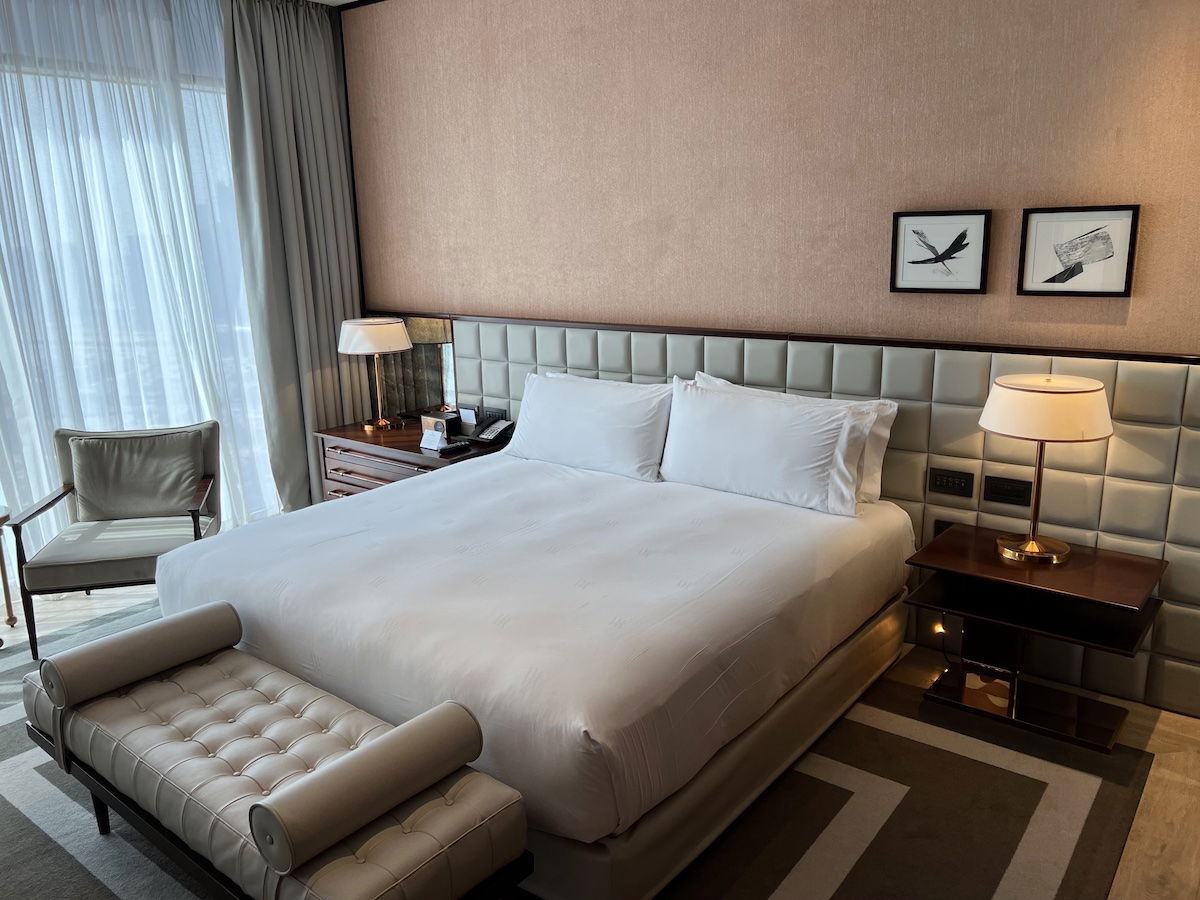 Gorgeous design
The Waldorf Astoria DIFC has a truly luxurious design, from public areas to guest rooms. This has to be one of the most beautifully designed city hotels I have ever stayed in. The hotel also only opened in 2019, so it still feels brand new.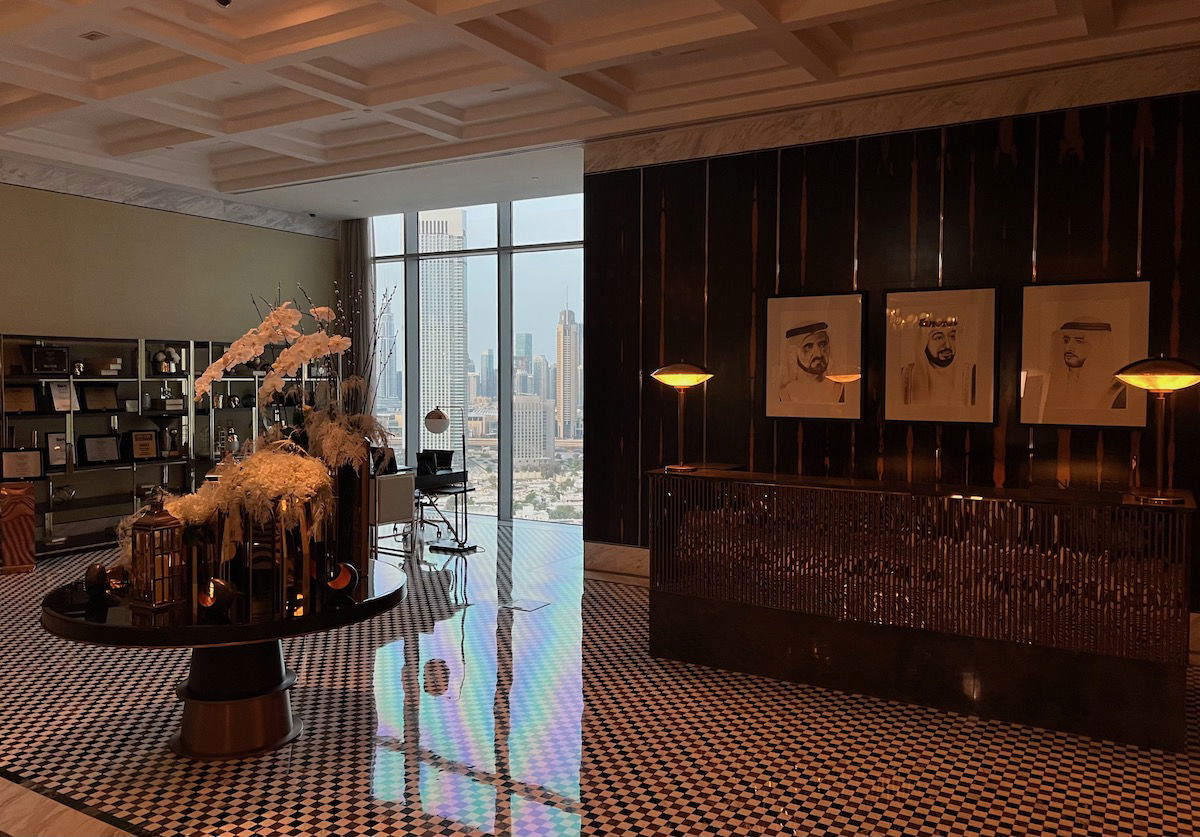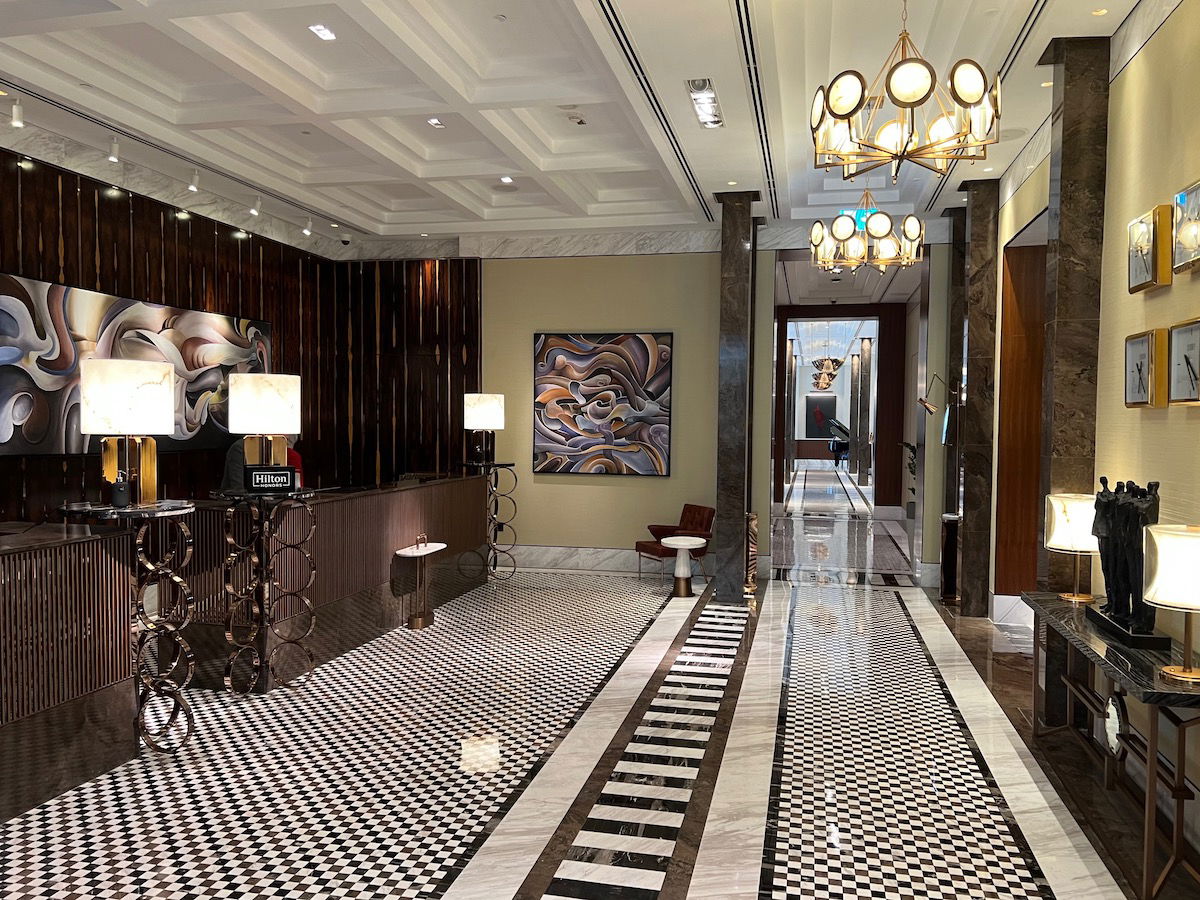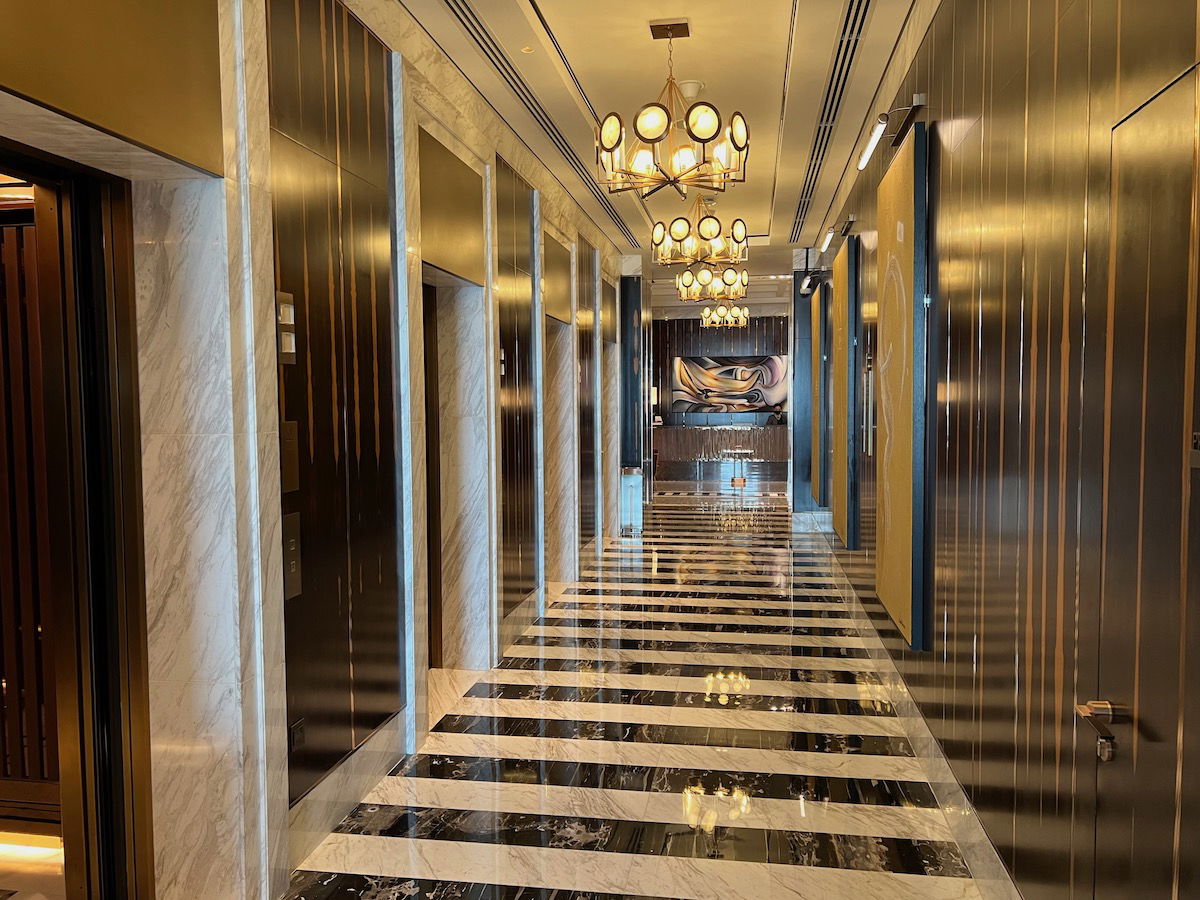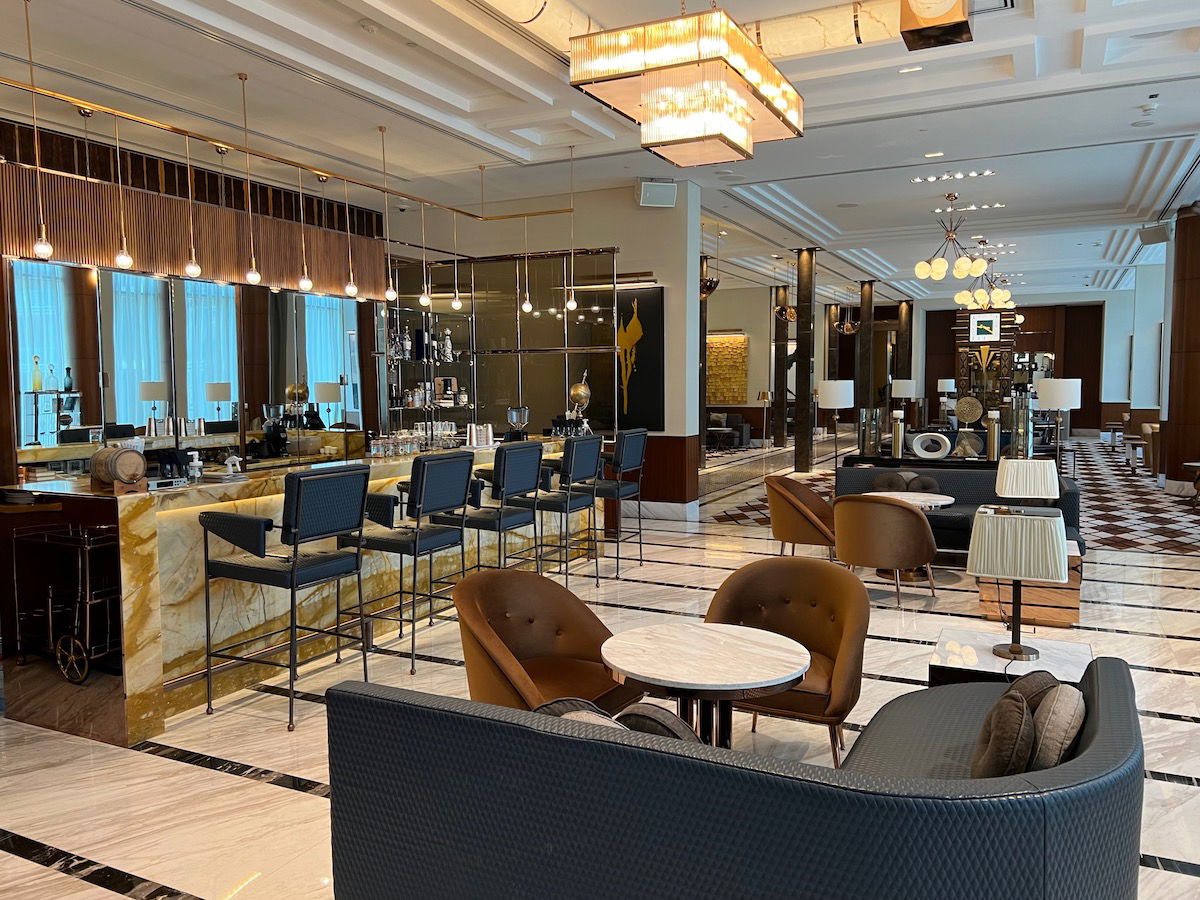 Amazing breakfast
As a Hilton Honors Diamond member, breakfast was included and the choice was excellent. Breakfast was served at Bull & Bear, and you could choose between a buffet and a menu.
There were exceptional drinks, from cappuccinos made by a barista to fresh juices. The buffet had all sorts of fresh fruit, pastries, yogurts, etc. On top of that, there was a menu with everything from avocado toast to masala omelets to shakshuka.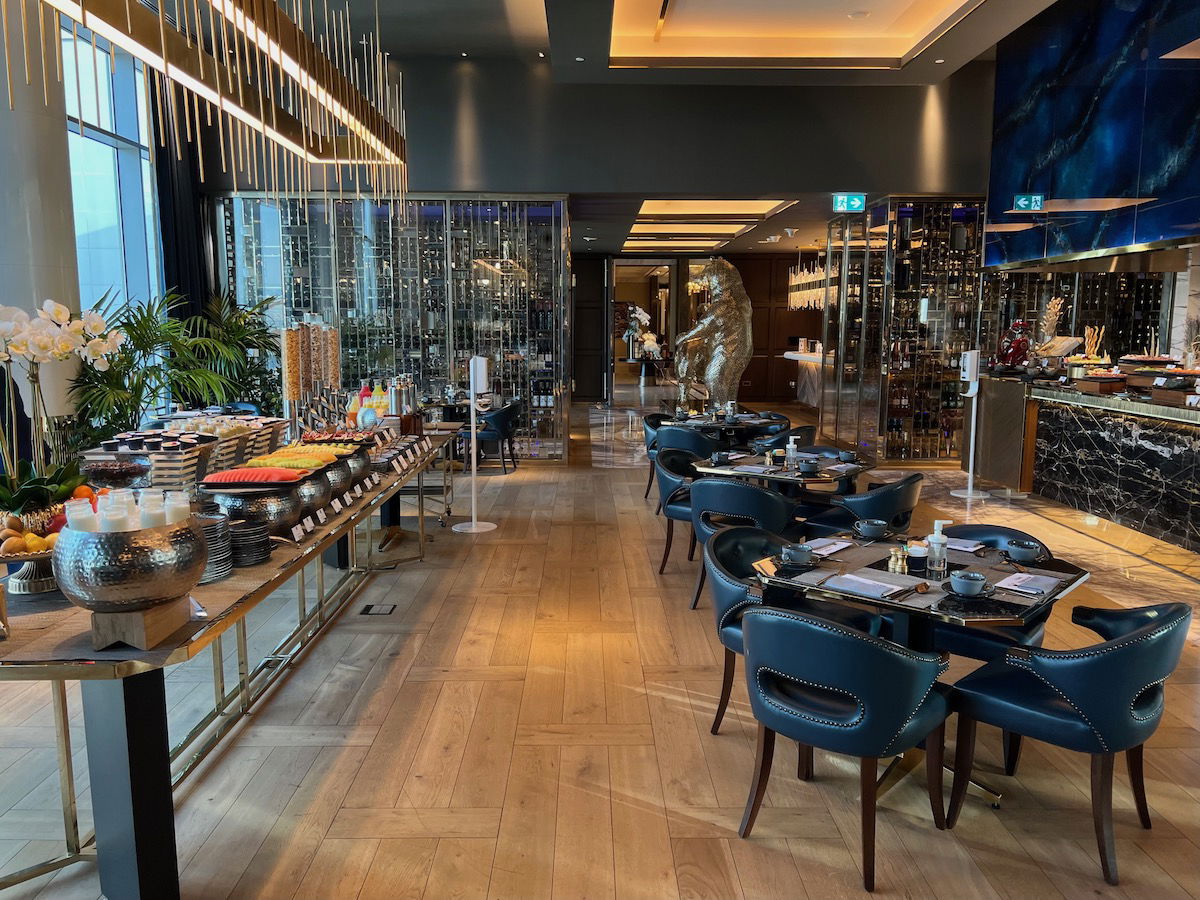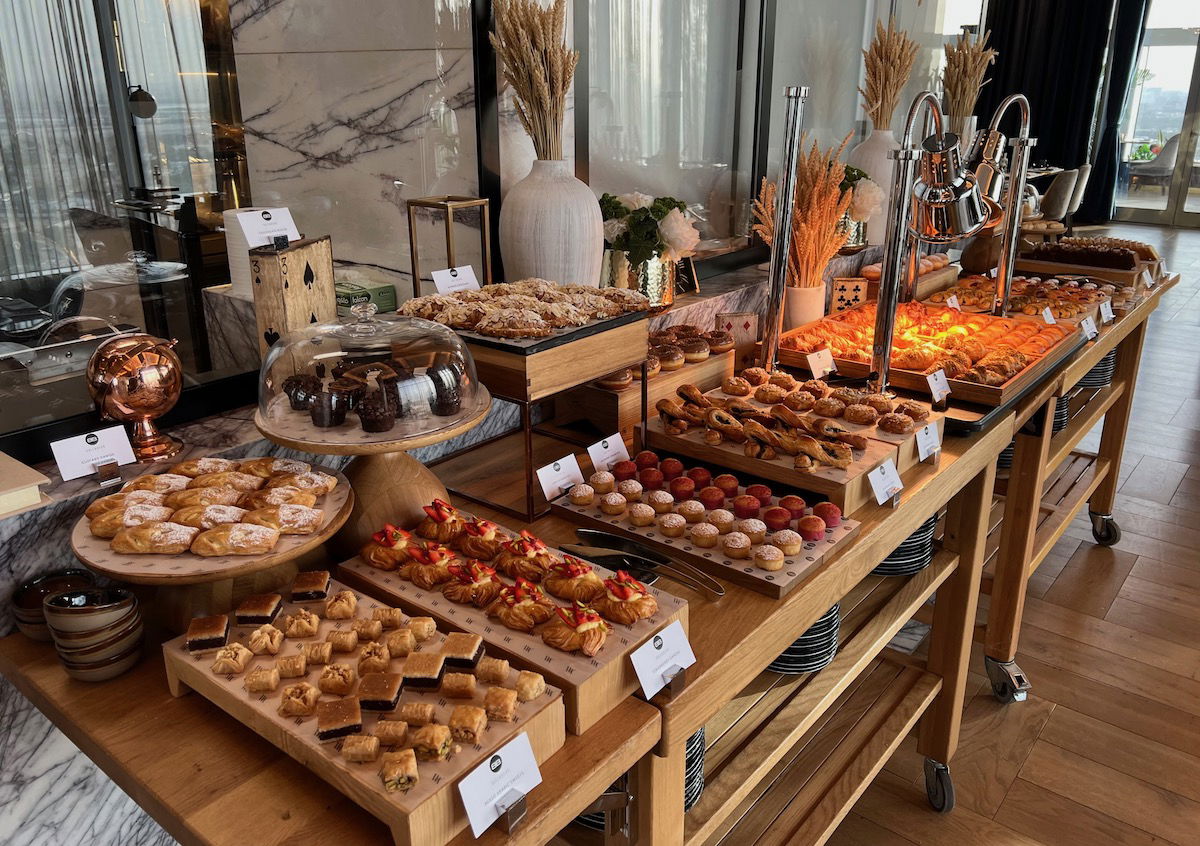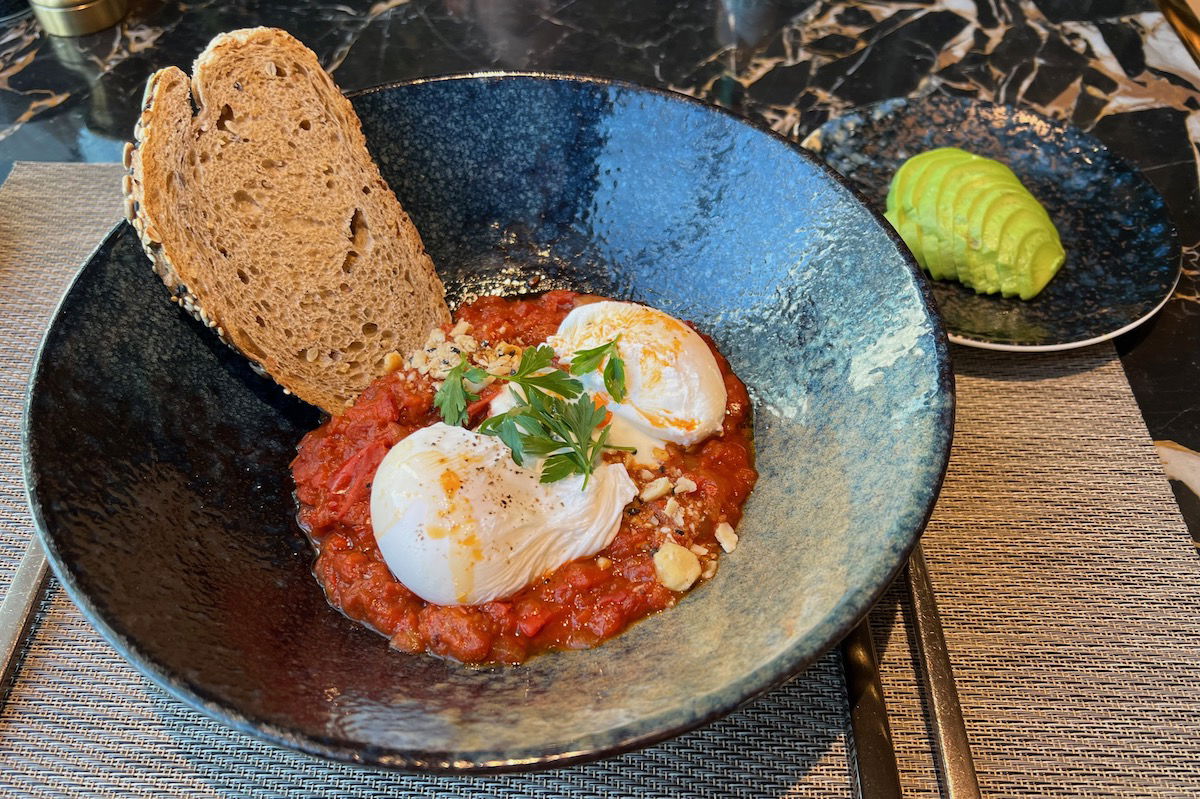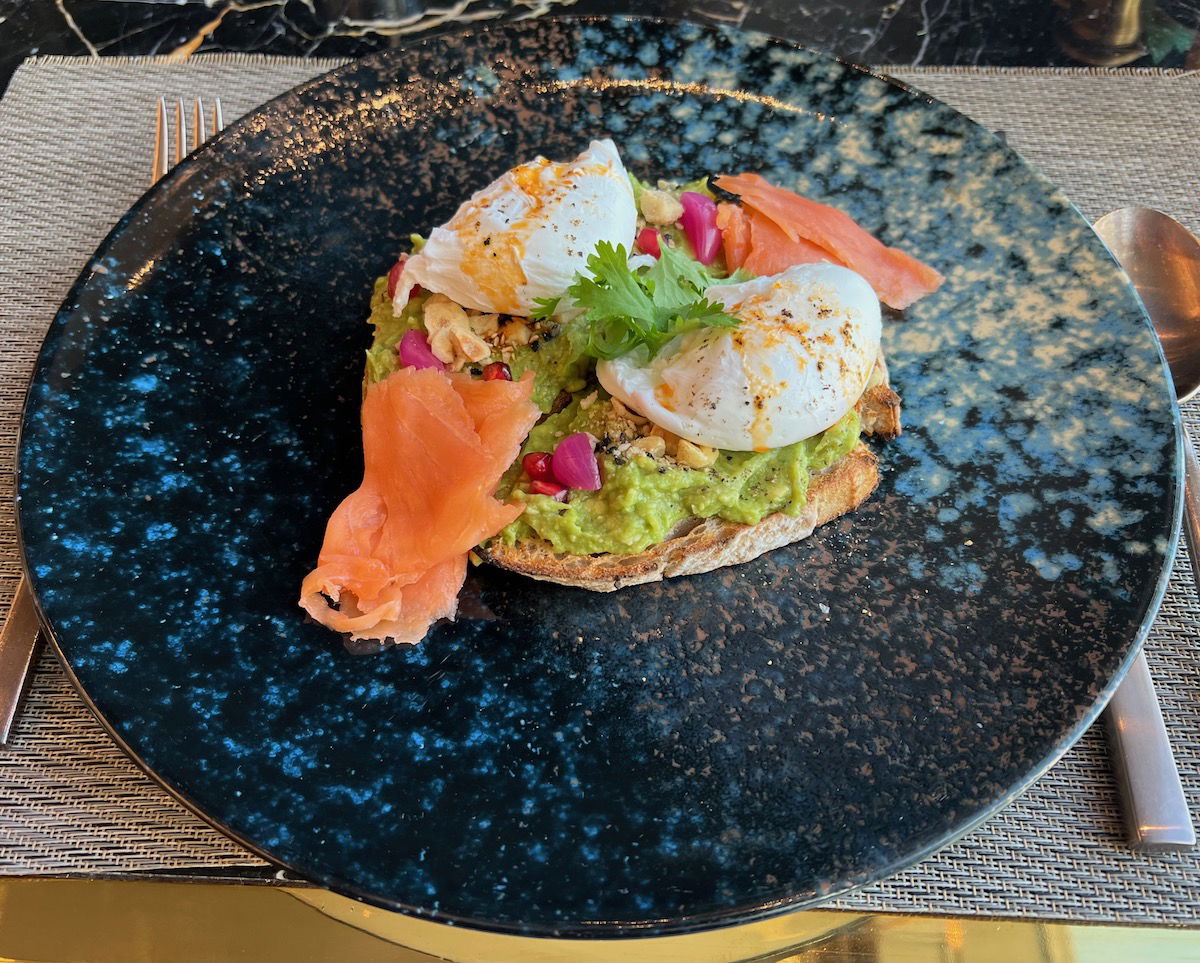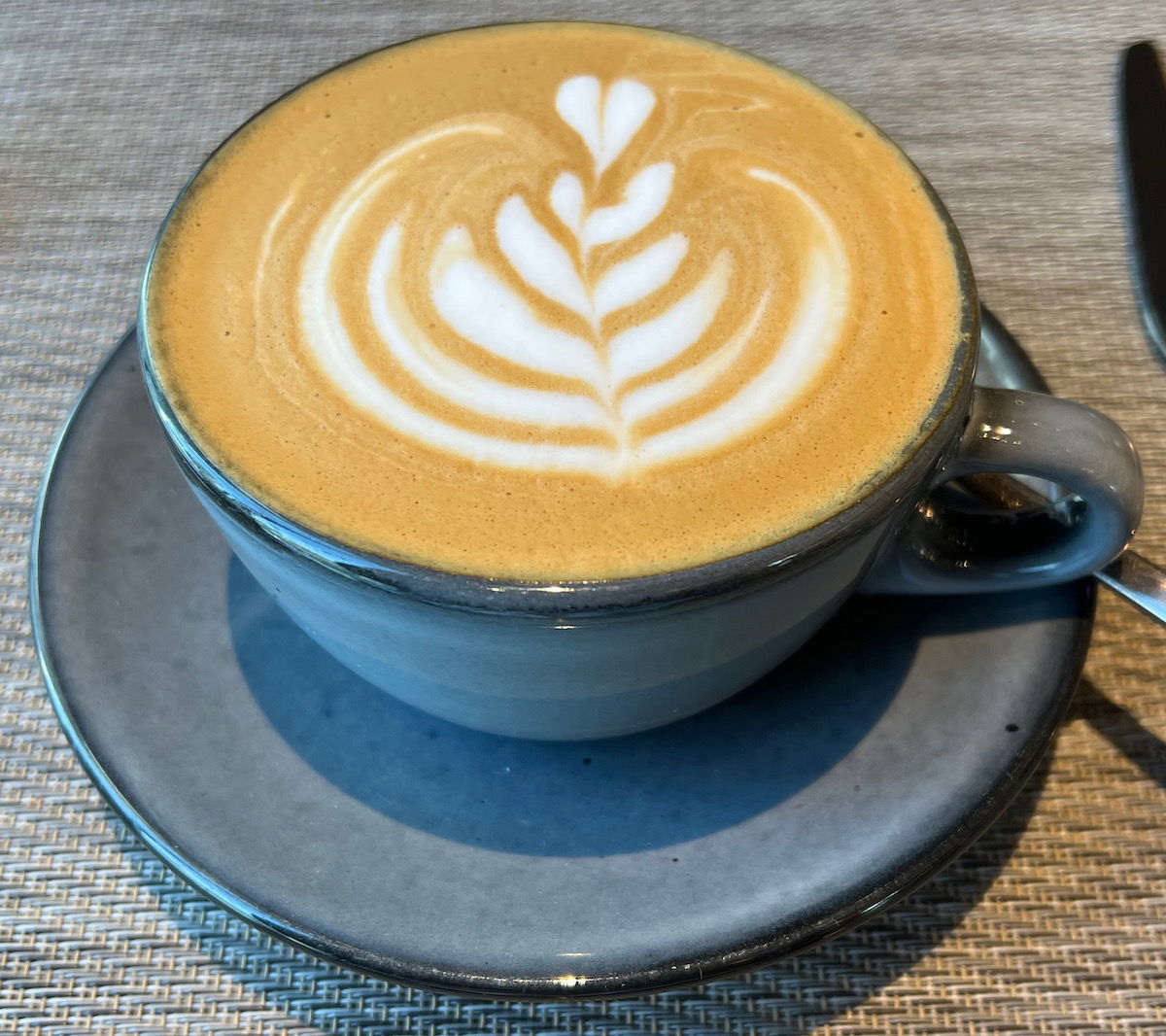 I love Dubai International Financial Center
I had never stayed at the Dubai International Financial Center before as from the name it doesn't sound very appealing. However, I love this area and would definitely return.
Personally, I don't come to Dubai because I want a beach vacation. While I understand people from cold climates come here for that, we have much better beaches in Florida. Also, I try to avoid the sun (especially when the UV index is 10+, like it is here).
Rather, I usually visit Dubai as a stopover to another destination. I like to approach Dubai more like a city than a beach destination, and that's why I like DIFC:
DIFC is only 15 minutes from the airport, so it's convenient to come and go if you have a short layover
DIFC has all kinds of amazing restaurants, from outposts of famous international restaurant groups to the restaurants you'll find here
DIFC is quite walkable and central as you can walk to many restaurants and even walk to the Dubai Mall
I'm not saying DIFC is for everyone, but it's definitely our new favorite place in Dubai. I look forward to trying other hotels in the area.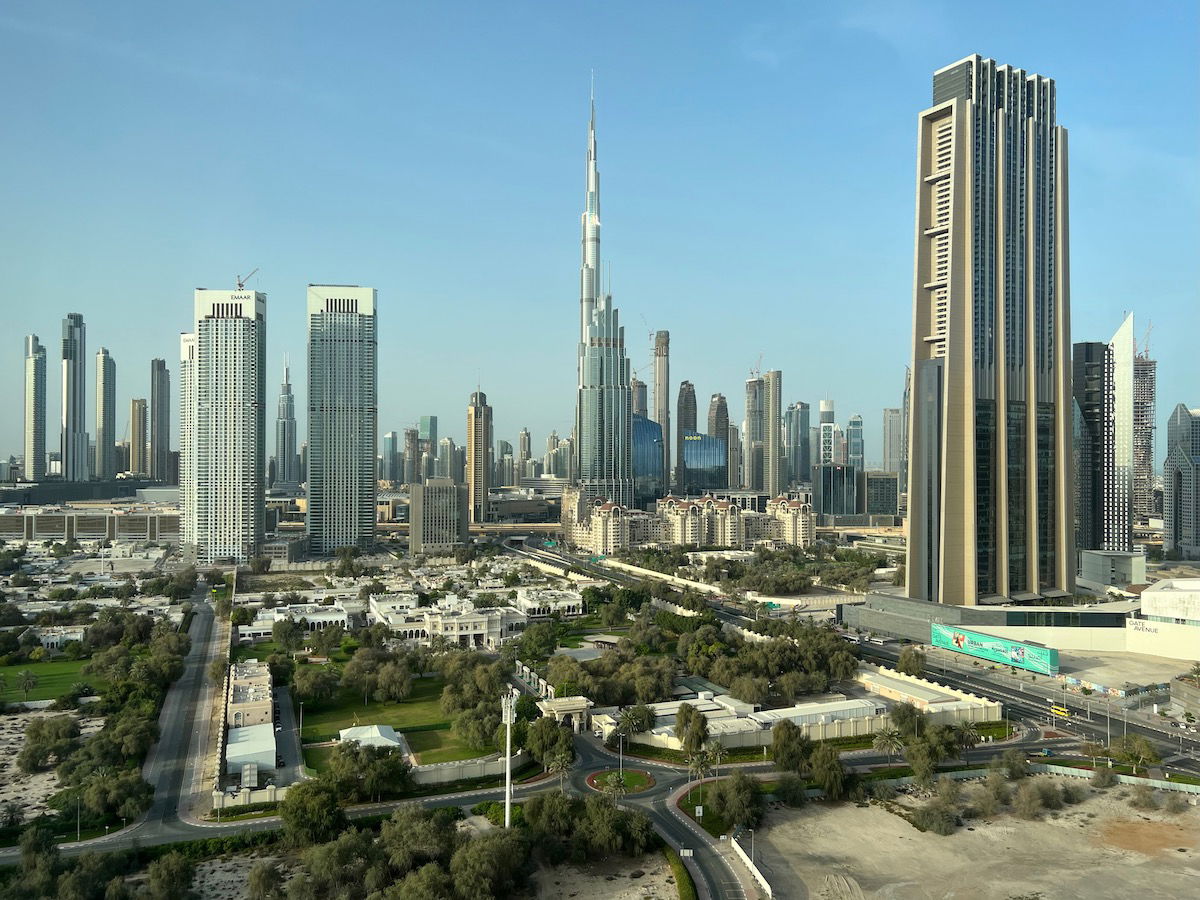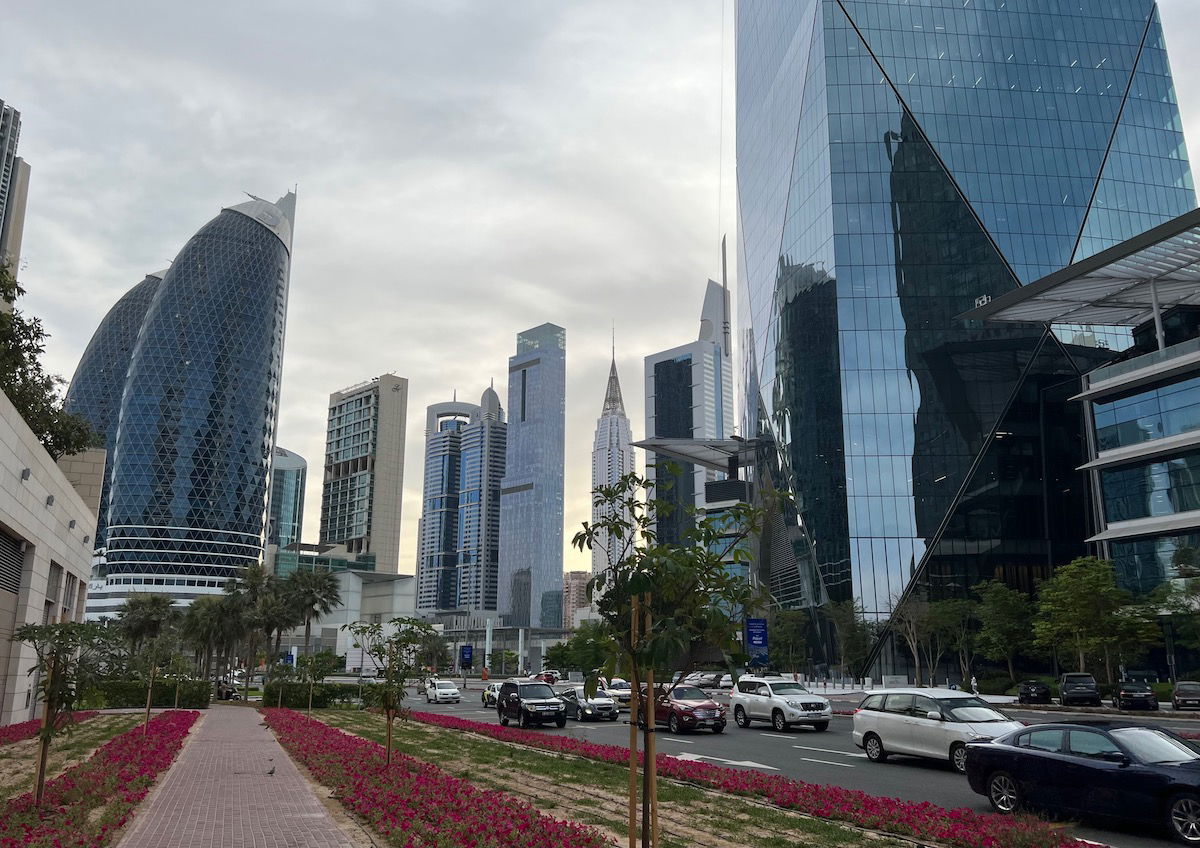 At the end of the line
I'll have a full review soon, but in the meantime, I can't recommend the Waldorf Astoria DIFC highly enough. The hotel is beautiful, the employees are exceptionally friendly and well trained, the elite recognition is excellent and I love DIFC.
If you're passing through Dubai and not looking for a beach experience, this is a great luxury option. Although I suspect that if this property becomes too popular with Diamond members, maybe the upgrade situation will change. 😉
The Waldorf Astoria brand is quickly becoming my favorite luxury hotel group, as I've had nothing but exceptional stays at these properties, from Amsterdam to Beverly Hills to Los Cabos.
Anyone else love the Waldorf Astoria DIFC, or prefer this area in general?